[ad_1]
Signs on the walls politely ask customers to limit their visits to 90 minutes, but the tasty, sometimes fiery fare is worth swallowing with a side of urgency.
Reviews and recommendations are unbiased and products are independently selected. Postmedia may earn an affiliate commission on purchases made through links on this page.
Content of the article
Korean house
785 Somerset Street West, 613-237-0808, koreanhouse.ca
Open: Monday, Tuesday and Thursday to Sunday from 11:30 a.m. to 8:30 p.m., closed on Wednesday
Prices: dishes from $15.95 to $20.95, all-you-can-eat dinners $31.95 per person
To access: No steps to front door or restrooms, crowded dining room
Content of the article
There are two reasons why I recently ate at Korean House with a heightened sense of urgency.
Content of the article
First, I heeded the signs on the walls politely asking customers to limit their visits to 90 minutes. It's not like a clock is counting down. Still, you get the sense that ordering, waiting, eating, then moving on is the correct order of the universe at this often-busy little restaurant in Chinatown.
Plus, the food here, from the huge seafood pancakes to the hot and spicy soups and bibimbaps to the raw, seasoned meats offered for table grilling, has been uniformly delicious. For us, the quality of the dishes tended to be, if not quite binge eating, very focused meals with discussions about the flavor of each item.
Content of the article
I'm embarrassed that I didn't jump on the Korean House bandwagon earlier, as it's been open for over five years. A very bright dining room with seating for around 40 people, usually bustling with the activity of patrons and waiters, it is as understated and unchanged as its name. That said, when I last visited the TV was tuned to the National Geographic channel and we watched what could have been a water buffalo giving birth.
As humble as the restaurant is, its menu might be big enough to surprise Korean food newbies, with everything from bento boxes to all-you-can-eat offerings if you've brought a big enough appetite and stretchy pants.
If it makes the choice easier, I'd recommend starting with Korean House Seafood Pancake. At $18.95, it's more expensive than comparable pancakes elsewhere, but it's also probably double the size, easily satisfying four people with its pre-cut squares of tender seafood covered in crispy, batty goodness.
Content of the article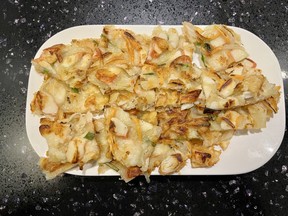 Among other entrees, the fried beef balls ($6.95 for six) were a little greasy, but crispy on the outside and loaded with tasty toppings. Fluffy rice cakes ($12.95) were nestled in a hot, spicy sauce with ribbons of fish-based noodles and zucchini. This appetizer was the most spirited dish I tried at Korean House.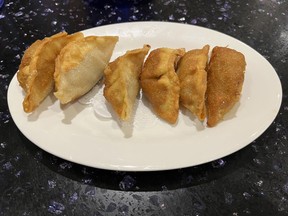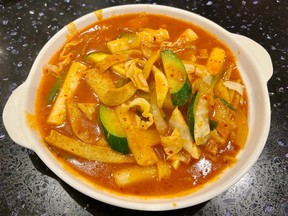 Heat seekers could go on with more dishes marked on the menu with the chilli symbol, like Chicken Stir-Fried and Breaded in a Sweet-Spicy Sauce ($18.95), a crowd-pleaser that hits all of its notes well. flavor and texture. .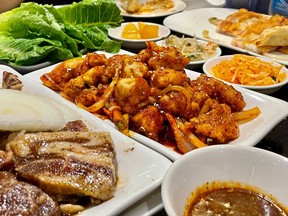 Arriving at the table resembling miniature steaming cauldrons, the Spicy Fish Soup ($16.95) and Spicy Pork Bone Soup ($15.95) had beautifully complex broths brimming with protein and superior supplements.
Content of the article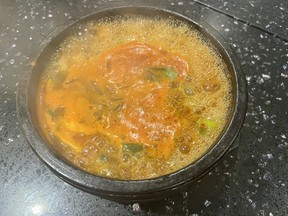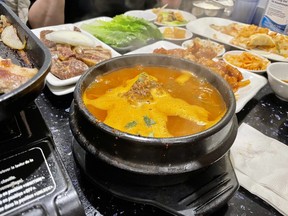 Those who like incessant spice would do well with one of the four more accessible bento boxes ($19.95 each), which generously combine servings of the classics (bulgogi, shrimp tempura, salmon or teriyaki chicken, grilled ribs) with other accompaniments.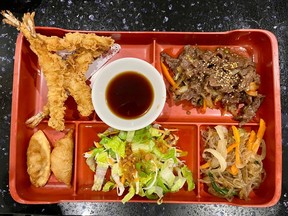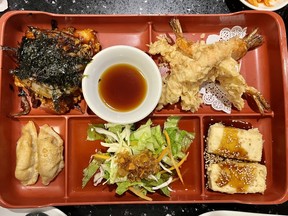 Dolsot's bibimbap, the classic Korean dish that arranges meat and vegetable toppings over spectacularly sizzling rice in a heated stone bowl, was solidly prepared, whether it featured bulgogi (thinly sliced ​​sweet and sour beef, sweet-savory, $17.95) or spicy pieces of black-meat chicken ($17.95) – only two of the six bibimbap choices here.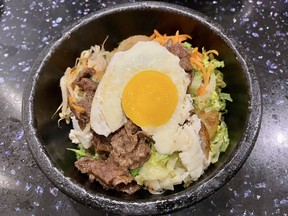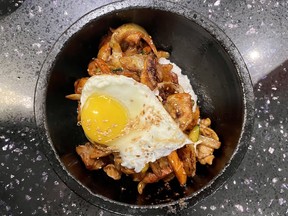 Korean House also offers tabletop barbecue, which is one of the friendliest ways to dine out. While other restaurants go all out and invest in tabletops with recessed and built-in grills, Korean House offers portable gas-powered grills that drain their melted grease into a waiting bowl.
Content of the article
We ordered platters of pork belly ($20.95) and ribs ($21.95), which we grilled well before eating them wrapped in lettuce leaves with a funky-spicy sauce. These meats were accompanied by bowls of rice as well as small bowls of kimchi, bean sprouts and sweet potatoes that could be refilled.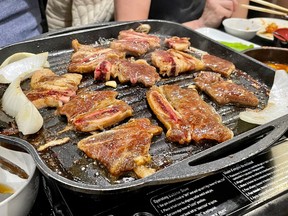 The restaurant does not serve desserts and is unlicensed. Apparently, your 90 minutes are meant to be devoid of those quiet distractions.
In fact, we were never close to being kicked out of our tables at Korean House. We always left satisfied and happy, with minutes to spare.
Dine at the restaurant: Peking Duck offers carefully roasted birds and fine Chinese dishes

https://ottawacitizen.com/life/food/local-food-reviews/dining-out-peking-duck-offers-expertly-roasted-birds-and-elevated-chinese-dishes
[ad_2]
Source link