In the late evening, golden rings of light illuminate the exposed beams and smooth white ceiling plane of Dr. Kwandaa Roberts' Spanish Colonial kitchen. Navy lacquered cabinets and polished Carrara marble countertops glow softly beneath brass pendant lights. Complete with black and white checkerboard floors, an ornately arched doorway and an old wooden work table in place of the traditional kitchen island, the room feels pleasantly warm and lived in.
But for all its charming patina, the kitchen never played a part in Roberts' vacation accommodation. Just ten inches tall, or 1:12 scale, the miniature room — set in a decorated dollhouse renovated by Roberts — is better suited for flashes than family dinner.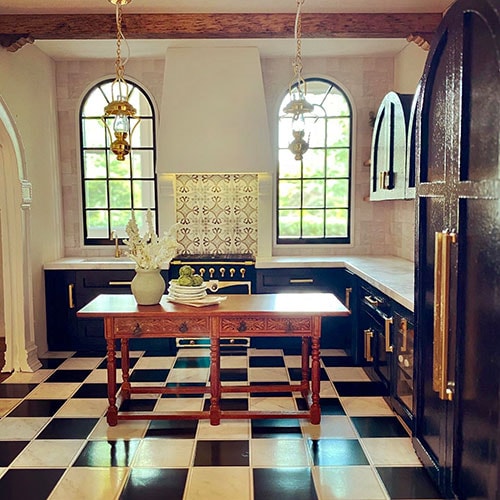 At first glance, it's hard to believe that this kitchen would be more suitable for dolls than humans. But at just ten inches tall, it certainly is.
"My home designs start with the kitchen. These are my favorite rooms [to design]", says Roberts, an obstetrician-gynecologist, interior designer, entrepreneur and mother of two from suburban Philadelphia. "I have to get these ideas out of my head or it's driving me crazy."
To maintain his sanity, Roberts has designed dream kitchens (and more) for a variety of plastic families in dollhouses of all styles over the past six years. Tiny House Calls, his miniature interior design business, is a cheeky reference to his dual specialty.
The new mini market
Roberts is an unlikely member of the burgeoning miniature movement. "Mini-Aissance", a term coined by journalist and author Ronda Kaysen, describes the growing fascination with miniature model making. Once considered a niche hobby, it has now become mainstream thanks to social media. Micro-influencers like Roberts have tens of thousands of dedicated followers (his Instagram account, @tinyhousecalls, has over 87,000 followers).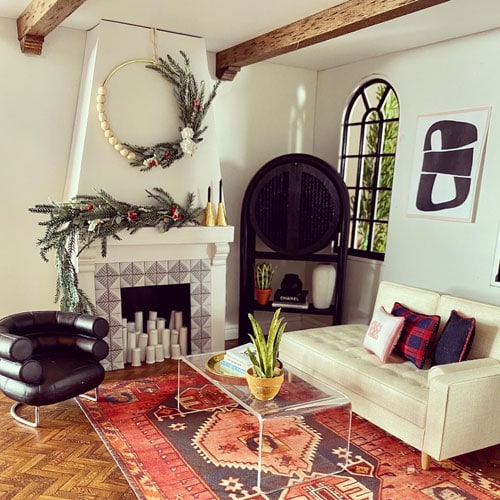 This small living room comes complete with garlands of mantels, a Lucite coffee table, and even thimble-sized snake plants.
Beyond Instagram, the mini-creators run thriving shops on Etsy and eBay, selling handmade and 3D-printed fireplaces, Eames chairs, tiny houseplants, and complete "tiny houses." Some, like salesman Chris Toledo (I Build Small Things on Instagram), make a living building dioramas and impressively detailed houses for jaw-dropping sums; Toledo structures range from $20,000 to $200,000.
With a resurgence of interest in small vintage wares by pioneering miniaturists like the late Mary Eccher, whose line of small foods and snacks, Pannikins by ME, was featured in The New York Times in 1992, remains in high demand on retail sites: Eccher's singular strawberry shortcake – the size of a quarter – sells for $35 on Etsy, while a "Hole in One" donut stand fetched over $200 at an online auction.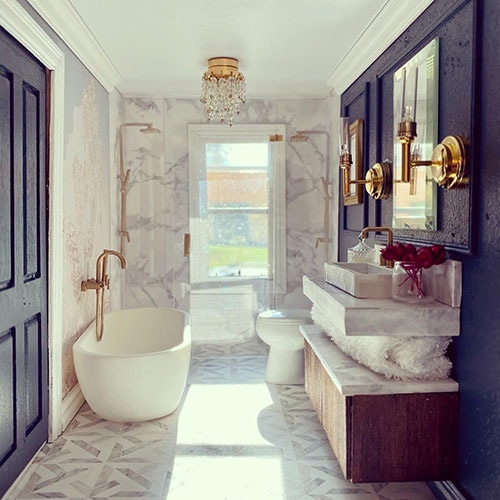 Roberts is one of many miniaturists reviving this art form. Here, the master bathroom of her Brownstone dollhouse features a shimmering chandelier and a tasteful mix of patterns.
Originating in the 1500s, dollhouses began as display cases, designed as displays for their owners' little treasures, known as "wardrobe houses" in Holland. By the early 18th century, these miniature mansions, called "baby houses" in England and Germany, had evolved into scale models of the owner's home – outfitted with miniature replicas of furniture and artwork found throughout. the House. After becoming the plaything of children, thanks to the affordability of mass production in the 19th and 20th centuries, the dollhouse captured the imagination of adult audiences with unexpected fervor, including that of Roberts.
How a dollhouse changed her life
"I bought my daughter a Melissa & Doug dollhouse for Christmas," she recalled. As a special surprise for her daughter, now 7, Roberts renovated the house, wallpapered the walls, upholstered new furniture and added functional light fixtures. "I loved it," she says of the creative process. "I was getting up in the middle of the night and moving pieces around."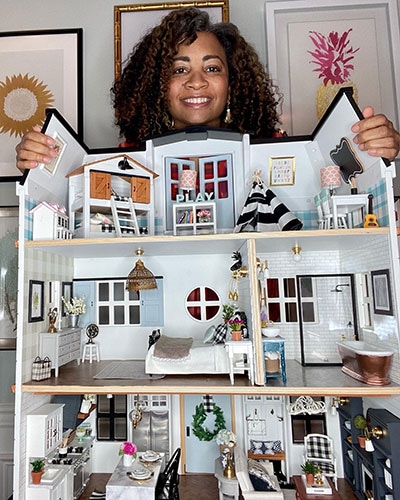 What started as a Christmas present for his daughter ended up changing Roberts' life.
With more than 20 years of private practice and hospital work under her belt, Roberts, who harbored an obsession with interior design, was on the lookout for a new project after every square inch of her suburban home had been updated or renovated.
Deciding to practice his design skills on a smaller scale, Roberts took a trip to Target. "I had a Fixer Upper dollhouse when Chip and Joanna Gaines' Hearth & Hand collection was new, and people were talking about it like it was the second coming," Roberts laughs of the three-story house equipped with tub, bookcases, and the wood-plank exterior she renovated with paint and custom furniture, including a barn-themed bunk bed inspired by a room designed by Chip Gaines in Gaines' hit HGTV show, "Fixer Upper."
About 160 hours of work and $1,000 later, Roberts photographed the house and proudly showed it to co-workers who mistook it for Roberts'. real residence. The photographs looked so realistic that receptionist Cheryl Benvignati urged Roberts to post the dollhouse project on Instagram. "It was my 45th birthday," Roberts recalled. "I joined Instagram and shared it with my Facebook friends."
To his surprise, the farm was greeted with adulation. "By the end of the week, the house had gone viral and I got so many Facebook notifications [that] my phone froze. From the second week, hello america and Disney were contacting me," Roberts says. "I was in a patient room doing an exam, with the patient in stirrups, and Cheryl [my receptionist] knocked on the door saying, 'Dr Roberts, Today's show is on the phone.'"
"It was madness," Roberts says of the rapid fame of her Hearth & Hand dollhouse, which eventually garnered praise from farmhouse style patron Joanna Gaines.
Fans were so impressed with her design that they began requesting interior design consultations for their homes, which prompted Roberts to pursue the interior design education she dreamed of. "I went back to interior design school, got certified, and started a design business."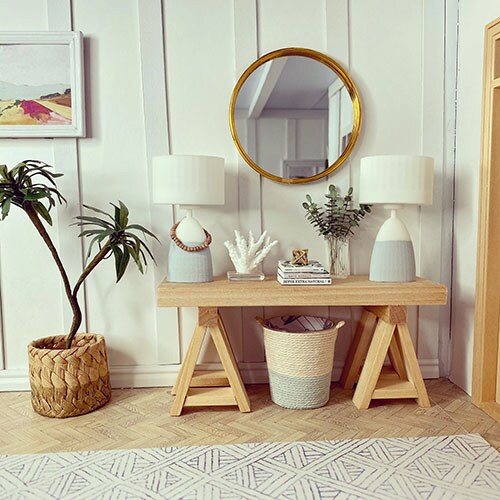 The hearth of this Cape May, New Jersey-inspired beach cottage is inspired by the tones one would find on a sunny shore, including pale blue and golden ochre.
But managing her thriving obstetrics-gynecology practice, her maternity ward, her non-stop press inquiries, her dollhouse projects, and her burgeoning design business (affectionately called House Call Designs) got proved to be challenging. "I felt these [design] opportunities were once in a lifetime, and I knew I couldn't do them while working," says Roberts, who chose to leave his private practice and pursue Tiny House Calls full-time. "When I stepped back in January 2020, our CEO thought I was having a nervous breakdown," Roberts says. "It seemed crazy – a doctor leaving private practice to design dollhouses.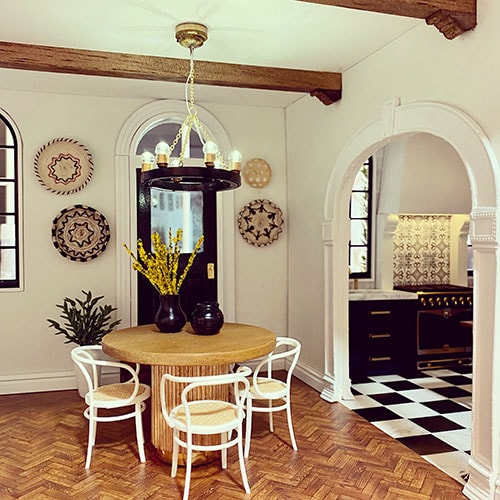 The living room just off the kitchen in her Spanish Colonial-style dollhouse features herringbone parquet flooring and miniature decorative baskets.
Pursuing his passion was immediately rewarding. With eight dollhouses completed and eight more in the works, Roberts finds herself in a constant media frenzy. "Whenever I think it's going to die out, it never does," Roberts says. Parents magazine, country lifeand The New York Times featured his thumbnails and, to Roberts' delight, in 2020, HGTV gave him a TV spot. "I was a designer on an episode of an HGTV show called 'Sell This House.' It was a loophole moment for me doing television and design," she says.
Tiny design, big impact
Although her time away from medicine has been restorative and surprisingly rewarding (she works a few days a month as a laborer at Holy Redeemer Hospital to maintain her certifications), Roberts admits the transition has been difficult. "It was tough for me. [As a doctor,] you take care of people, and I think it's hard to step back from that," she says. "But I want people to know that you can step back and take care of yourself."
To further spread this message of creative healing, Roberts has a TV show and a collection of American-made dollhouse furniture, which means her schedule is never free enough to complete every kitchen design. and bedroom that his inspired mind envisions. And though the list of dream dollhouse creations is growing, the encouragement her work brings to others propels her towards her goals: "I bring joy to people, and I'm going to focus on that. "
For more news, follow Medscape on Facebook, TwitterInstagram, YouTube and LinkedIn