"It's like a kind of meditation," explains Spanish artist Mar Cerdà of his laborious and laborious dioramas. "I get lost in the cut and the details, then I forget to eat or what time it is."
Cerdà doesn't remember exactly how long it took to create his miniature re-creation (about 8 inches high and 30 cm wide) of a train car from the Wes Anderson movie The Darjeeling Limited: "Two, maybe three weeks ? Everything in it – the patterned wallpaper, the napkins hanging from a hook, the bespoke Louis Vuitton suitcases – is handmade using only paper and watercolor paint. Look closely and there are even miniature replicas of Indian miniature paintings.
The Anderson connection was inevitable. He's exactly the kind of design-conscious filmmaker who inspires such craft-related devotion (and an equal measure of anti-hipster derision, of course). Cerdà, based in Barcelona, ​​also studied artistic direction for cinema before becoming an artist and illustrator; she thinks of her dioramas as scenes from a movie. "It was difficult for me to think in two dimensions," she says. "I had these ideas of space in my mind." Along with scenes from films (she has just completed a tribute to Zoolander and is working on a piece based on Labyrinth), her works have included tiny replicas of architectural spaces.
The growth – for lack of a better word – of the miniature has been a surprising development in 21st century art. It may have started with the Chapman Brothers' epic Hell diorama of 2000 – a sort of Nazi re-creation of a painting by Hieronymus Bosch. A decade later, an exhibition called Otherworldly: Optical Delusions and Small Realities toured the world, bringing together 37 international artists working in miniature. Many of them, like Cerdà, take a deliberately filmic path. Lori Nix creates beautifully precise mini-scenes of post-apocalyptic urban ruins that could have been taken from a disaster movie; Alan Wolfson reproduces pieces of existing streets at insect scale.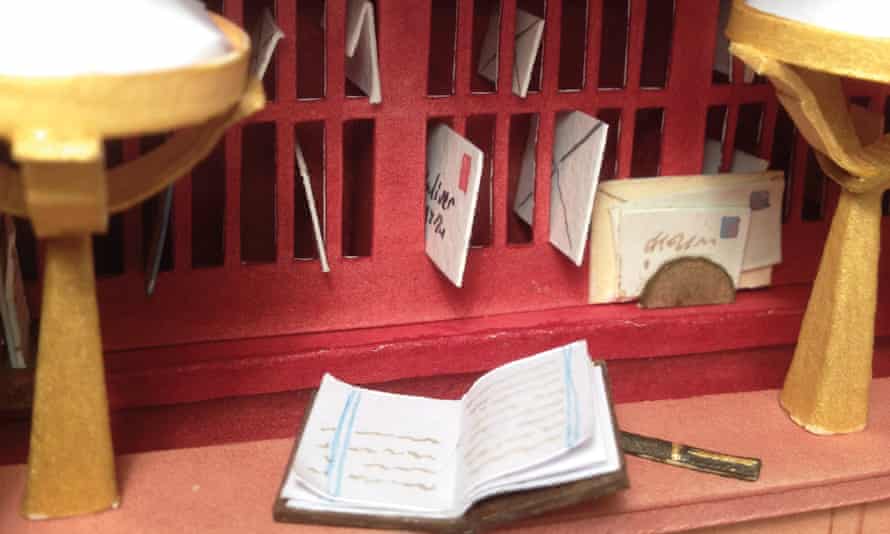 We've also had Instagram heroes like Slinkachu – who plants "little people" in street scenes – and Japanese artist Tatsuya Tanaka, who has created an ingenious new micro-diorama every day for the past five years in using broccoli for trees, bottle caps for picnic tables and chocolate éclairs as climbing walls. Then there's Birmingham artist Willard Wigan, whose sculptures are only visible under a microscope. It is a movement as inexplicable as it is unexpected.
Could all of this be a reaction to the increasingly digital and virtual nature of the world, the product of limited resources and playful concerns (Cerdà had a childhood sweetheart of Polly Pocket)? Whatever the reason, it is a refreshing and modest response to established "big" artists such as Richard Serra, Anish Kapoor and Claes Oldenberg, who seemed to gravitate towards a scale commensurate with their reputation. Tiny art can draw us closer, so we really pay attention to it.
This article was corrected on March 29, 2016. We originally stated that the Royal Tenenbaums photo was a scene from The Darjeeling Limited.